A flash card language app to help break the language barrier 
Applying
design thinking
to helping a poorly understood and traumatised community
, I worked with Ezidi (also known as Ya'zidi) refugees to help them communicate with the local community.
I delivered this project over five weeks as part of a design course at Academy Xi, a Sydney-based design school, completing an
end-to-end design process
in a
unique problem space
.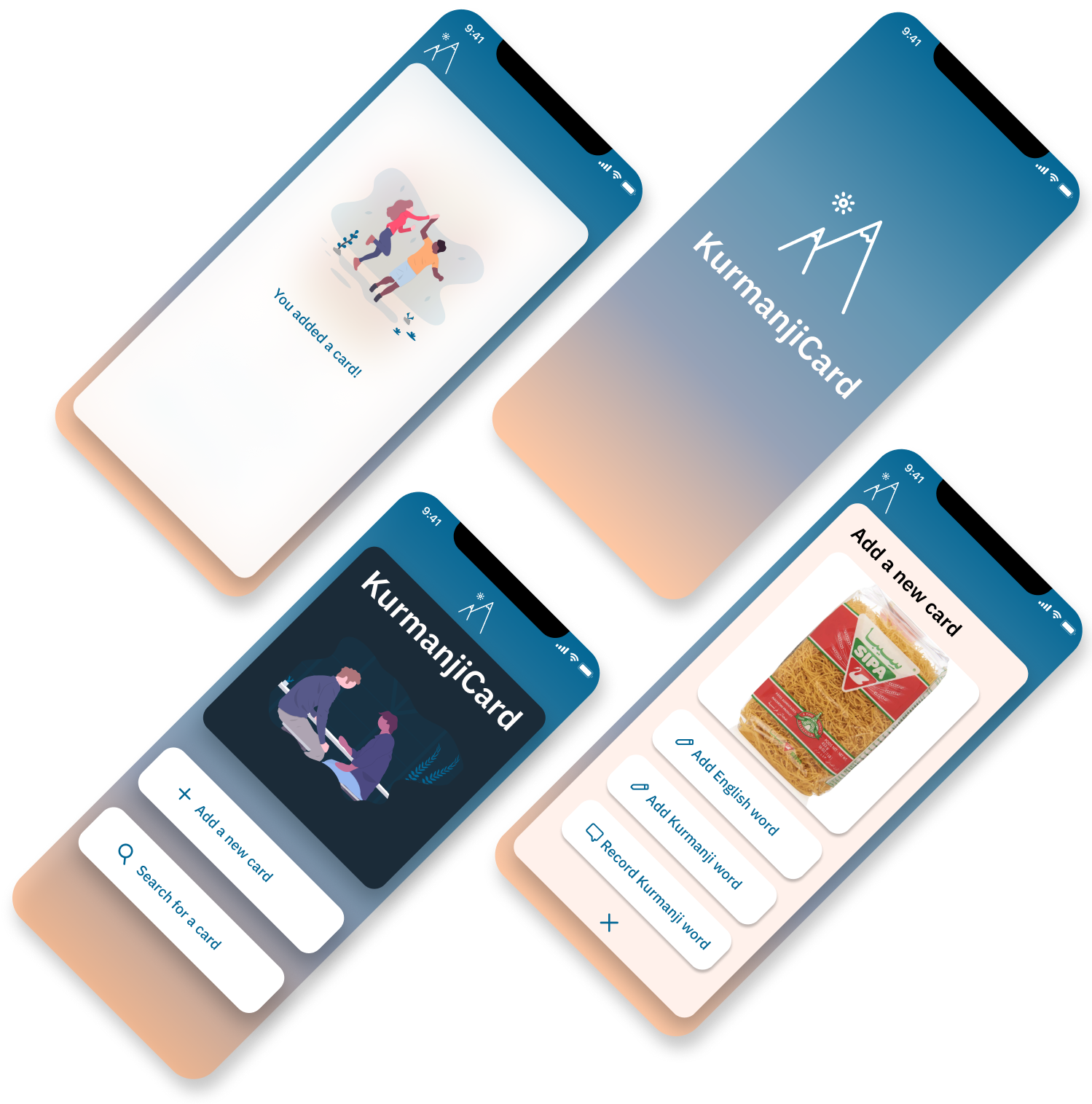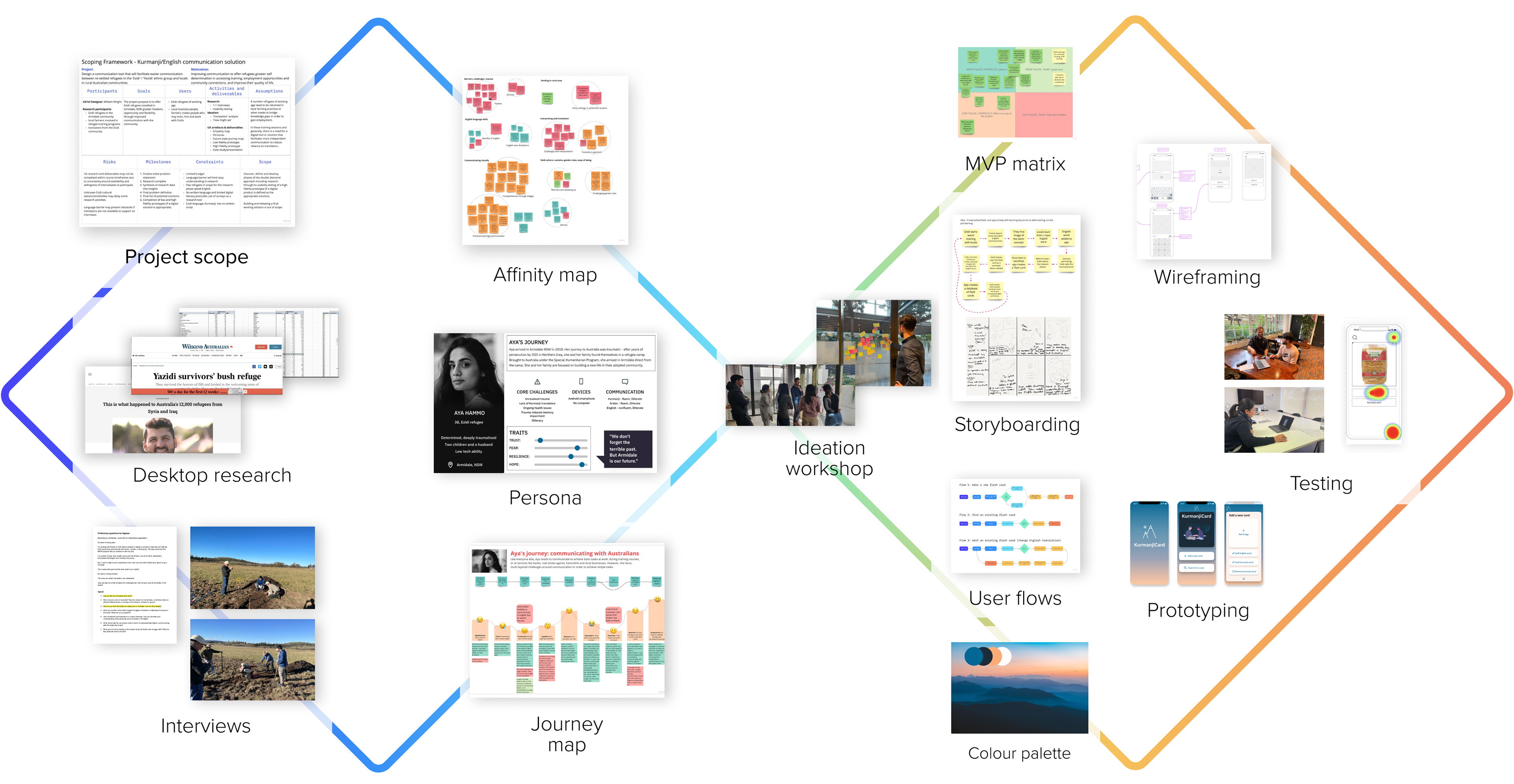 My initial understanding of the problem was that refugees in my home town of Armidale were struggling to communicate with the local community, despite having been resettled there for some years. I wanted to understand what was going on, so I framed my initial
problem statement
based on my initial grasp of the situation.
​​​​​​​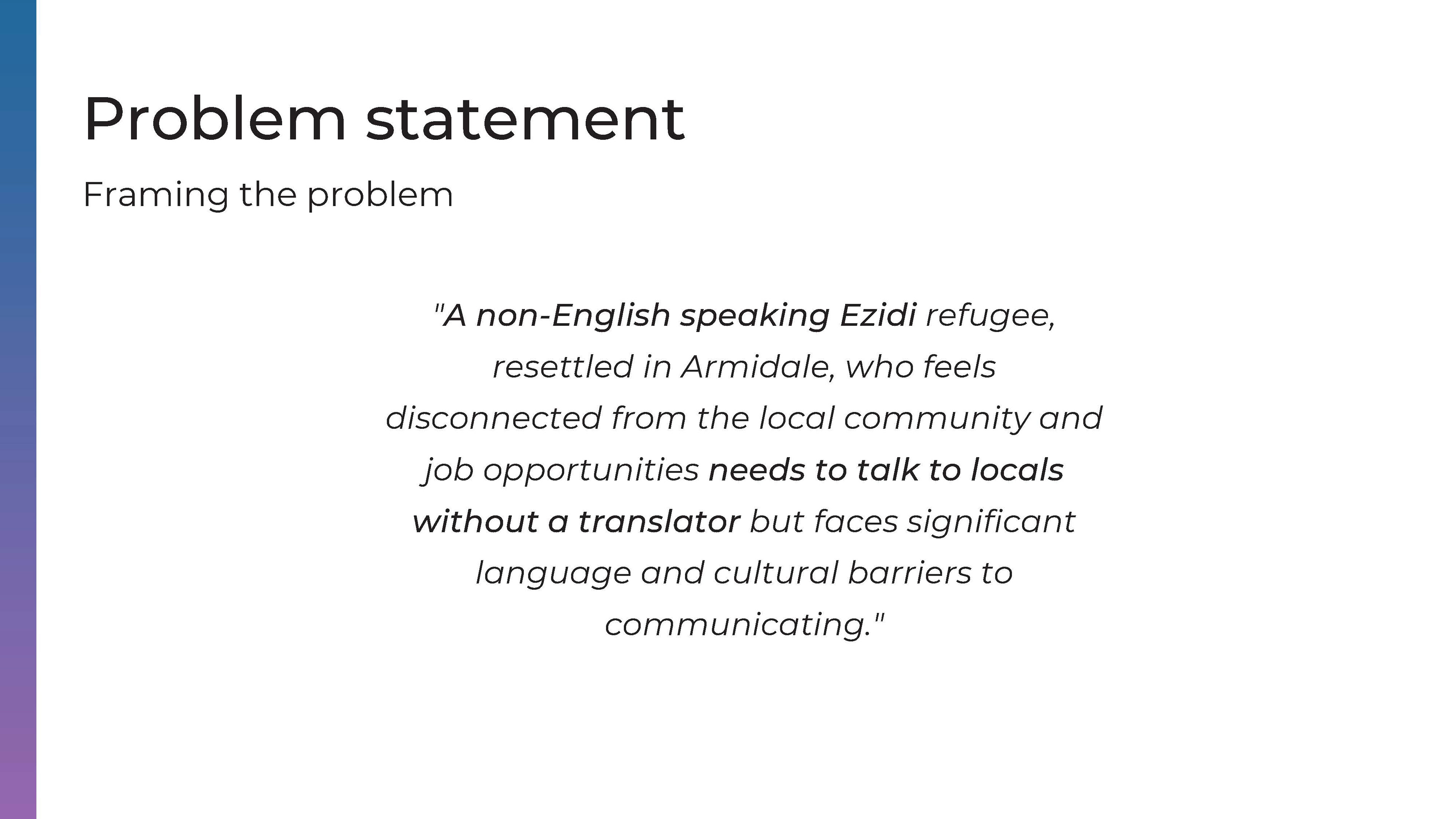 ​​​​​​​
The Ezidis are a persecuted minority from Iraq. Several hundred were resettled in my home town of Armidale, NSW, starting in 2018, by the Australian Government. 
I was motivated to help the community interact more easily with the locals, and improve access to work and training opportunities.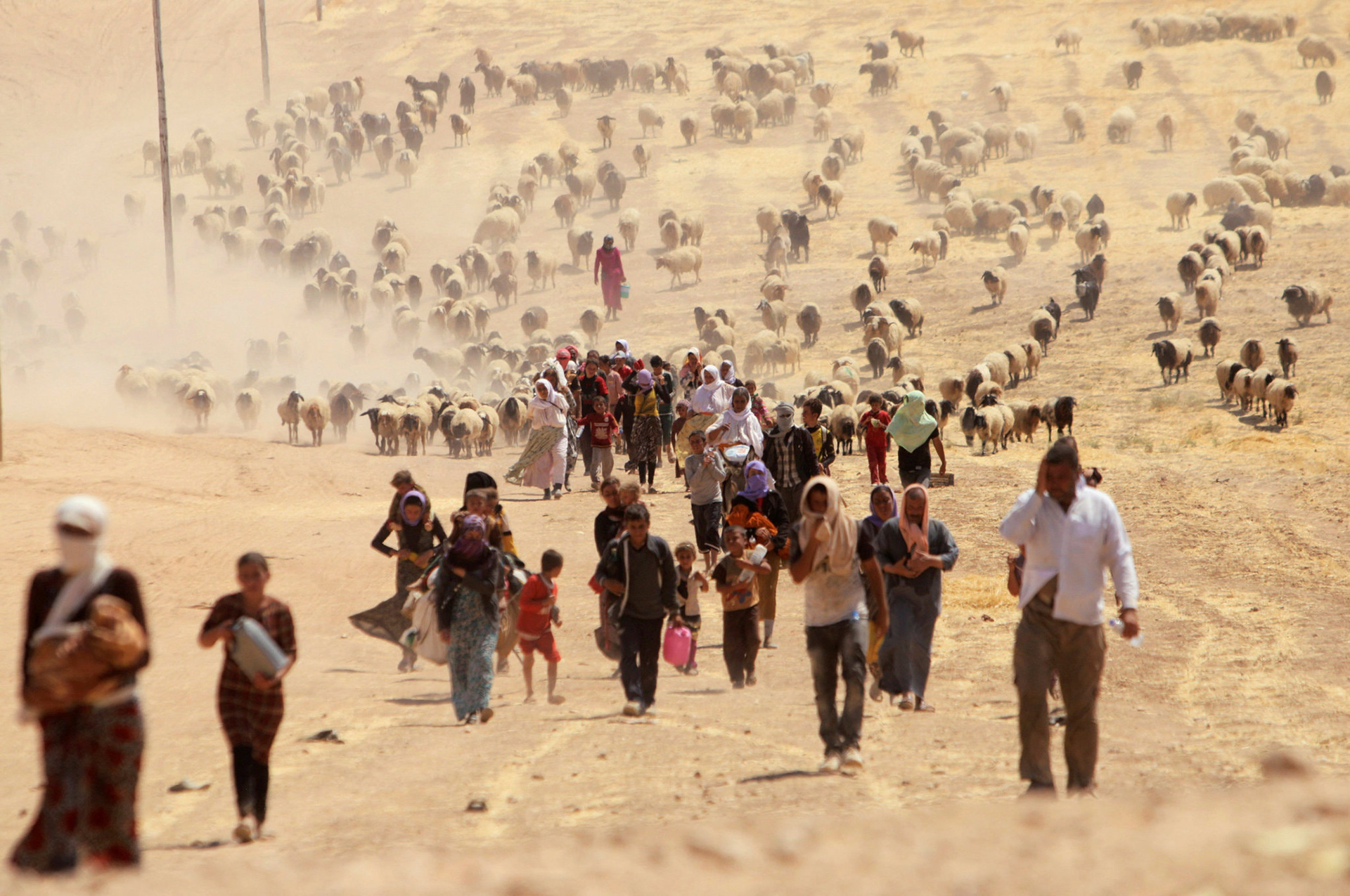 Research phase: an exercise in overwhelm​​​​​​​
After starting the project, I quickly felt overwhelmed.
Desktop research
revealed stories of unimaginable suffering and trauma. Not only that, their culture is traditionally closed to outsiders.  
​​​​​​​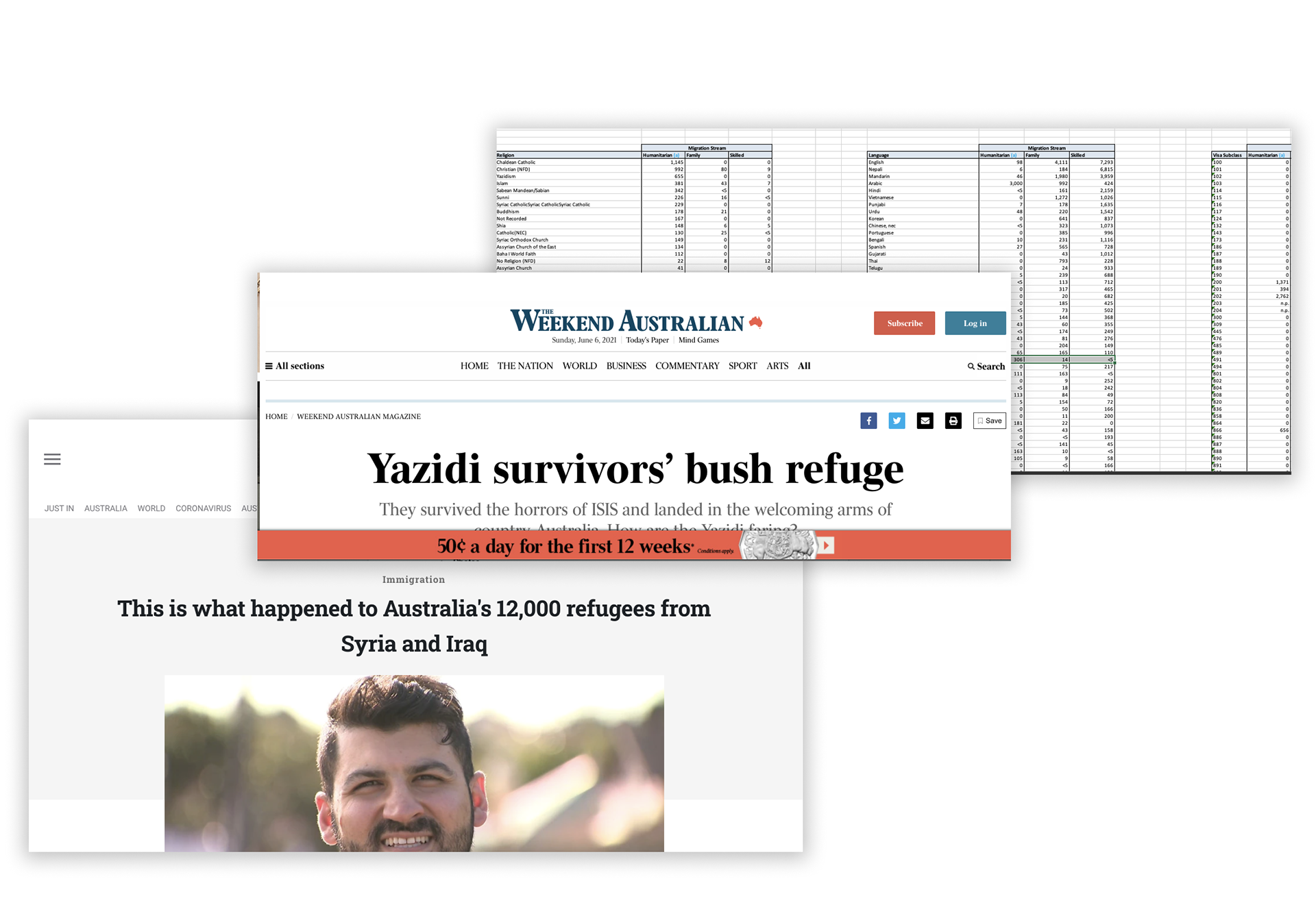 I also didn't know any Ezidis; most of them didn't speak English. Further, services who looked after them were reticent to give outsiders access. I reached out to local support groups, government agencies, case management/social workers and the local Rotary organisation.
​​​​​​​​​​​​​​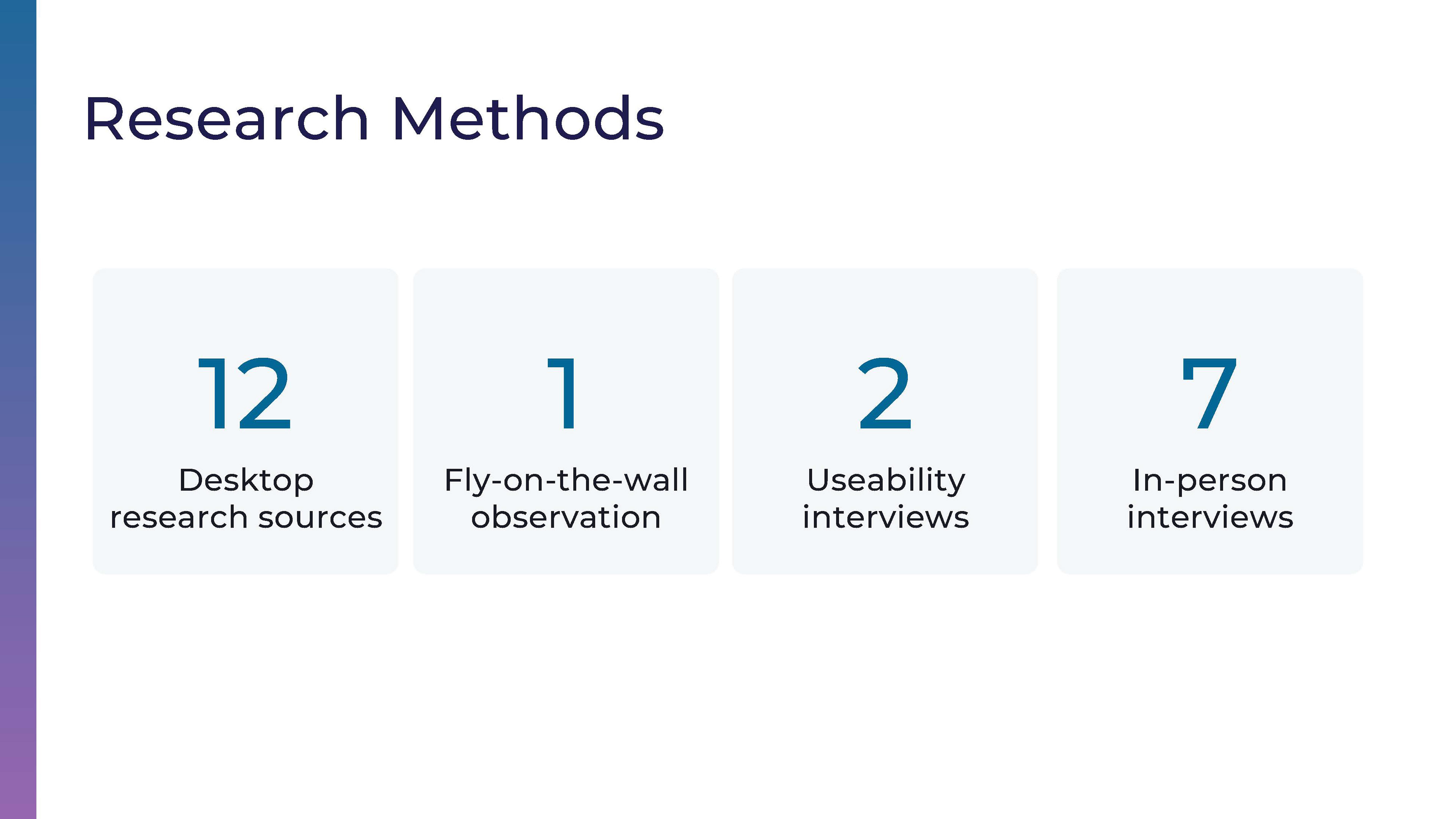 Eventually I gained interviews with the Director of a local case management service. This lead to connections with the Ezidi community and local businesses and farmers who employ them.
Formal and observational interviews
 with these stakeholders formed the core of my research, alongside the extensive desktop research including
media articles
,
academic reports
and government
migration statistics
.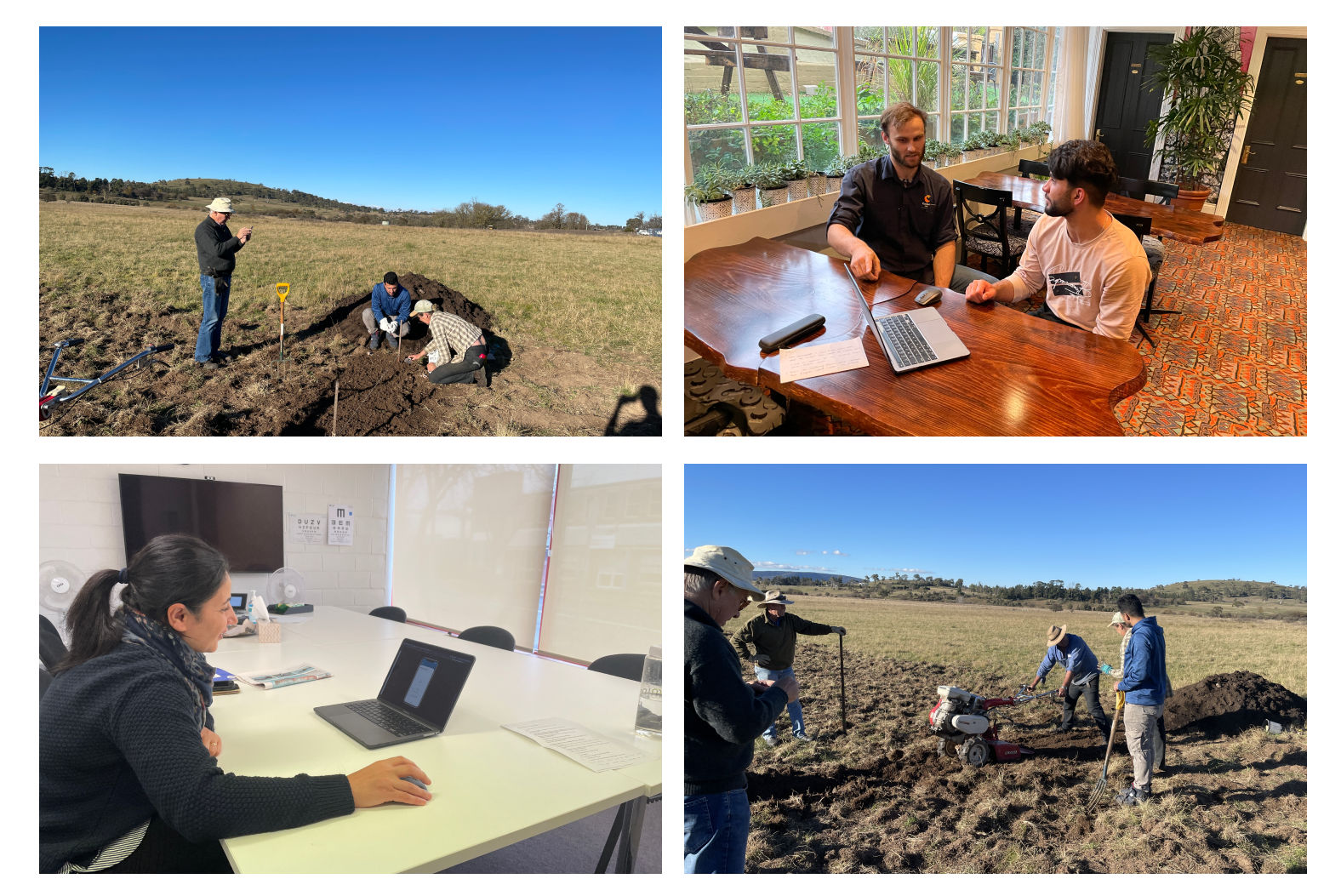 Synthesis and insights: the pivot
Speaking with the community was humbling and inspiring at the same time: despite the impact of their traumatic past, they look to the future with hope.
The research revealed a

nuanced problem space

 about 

mental health and trauma

, rather different from my original assumption of communication problems due to poor English.
In fact, trauma affects all aspects of Ezidi life, in particular their ability to learn new information such as retaining English vocabulary or writing down their phone numbers and names (most are illiterate, even in their native language, Kurmanji). This dominoes into other areas critical to quality of life: gaining employment, opening bank accounts, accessing welfare payments and renting and buying property.
Arriving in Armidale in some cases added layers of trauma to their situation as a result of learning how to navigate an entirely alien society and government system. Mistrust, fear, uncertainty and struggle remain. Resettlement was no fairytale.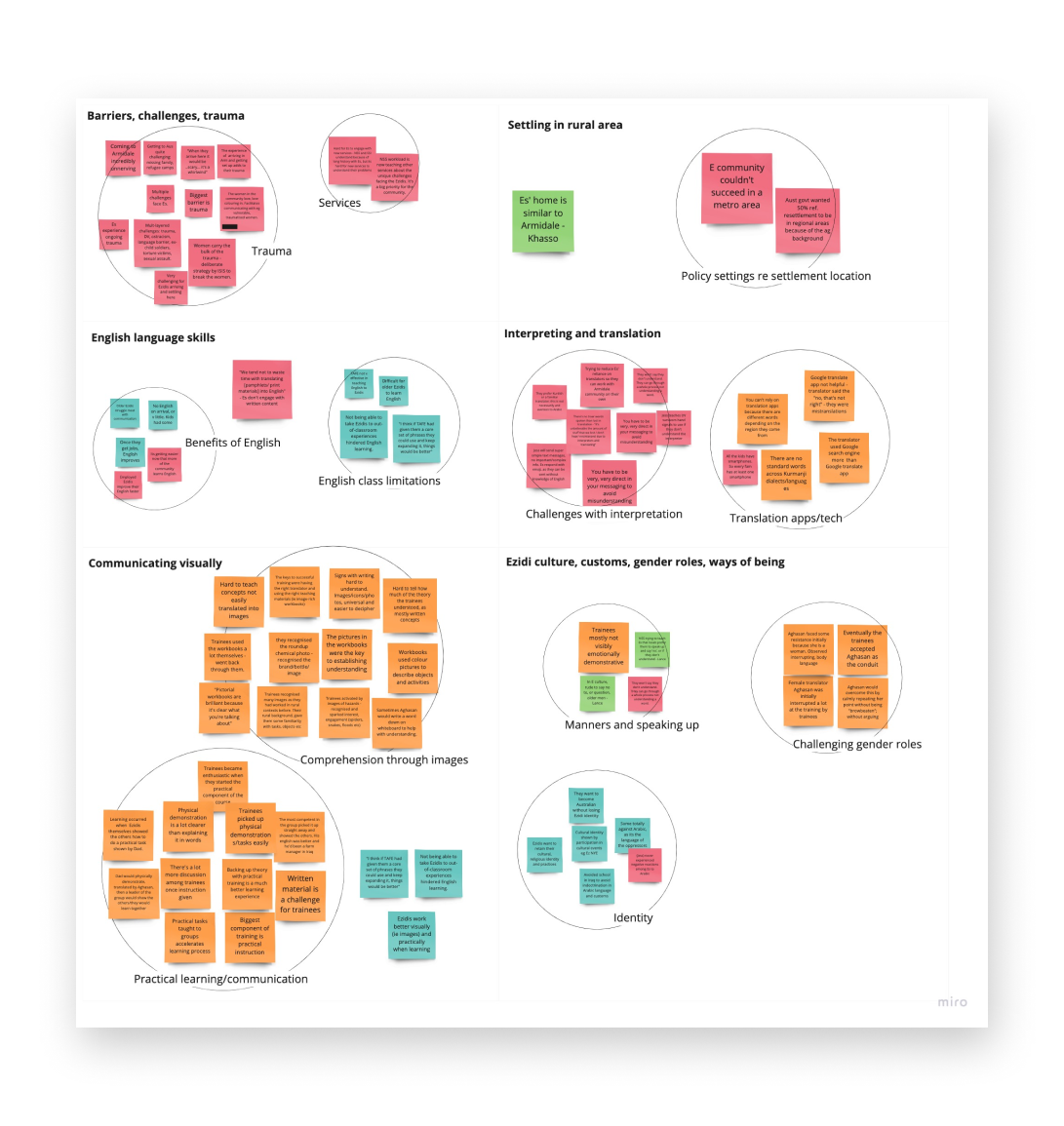 While these
research insights
were overwhelming and unexpected, they helped create a really clear picture of who I was designing for.
I wanted my
persona
to reflect the humbling interplay of fear, hope and resilience I'd witnessed in my interviewees.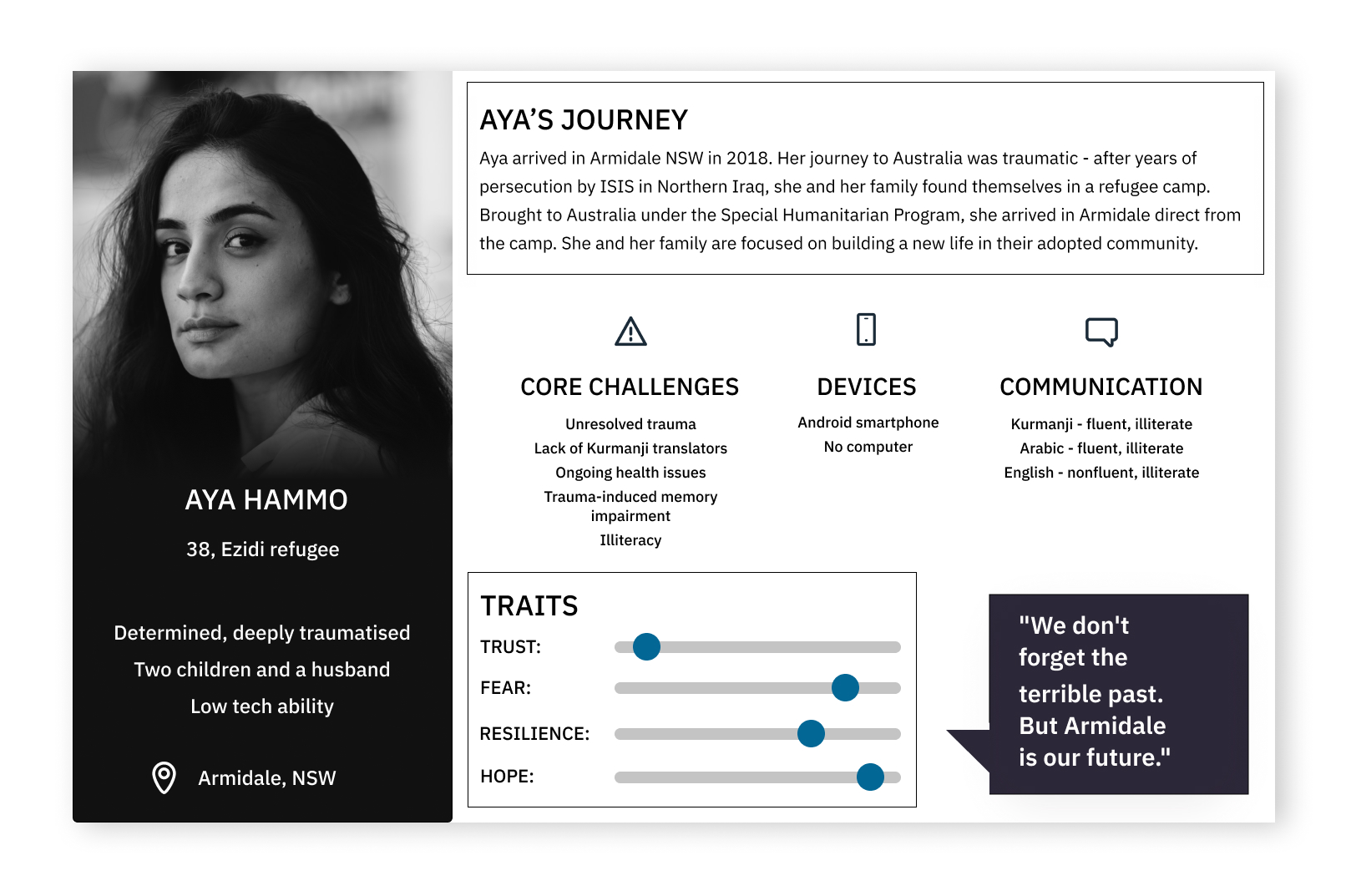 Aya's journey is a combination of
interview insights
,

 demonstrating the pain points Ezidis experience in daily life as a result of being unable to communicate with local services and businesses.
​​​​​​​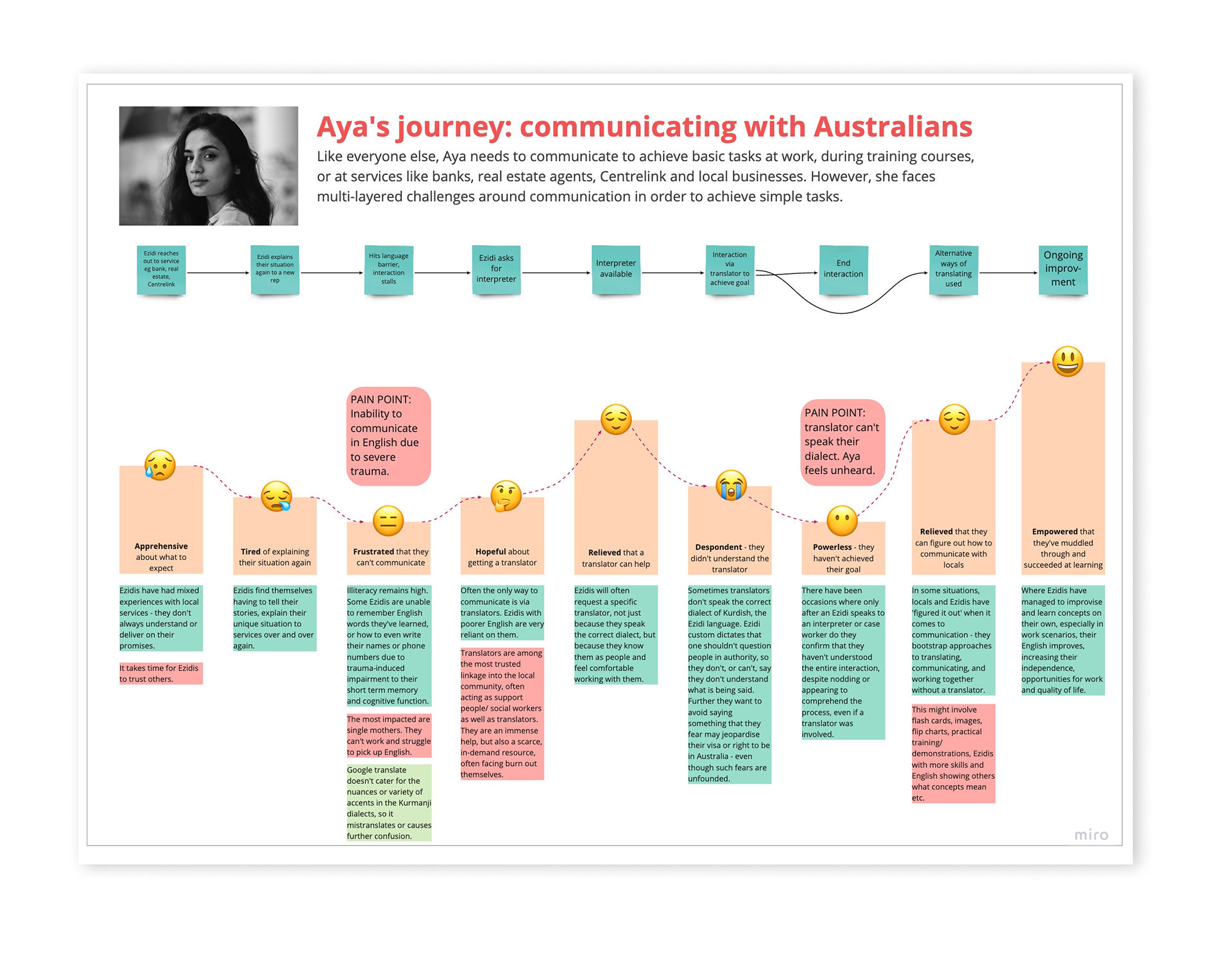 Now that I had a clear vision of Aya's journey and pain points, I conducted an in-person 
ideation workshop
in which I brainstormed solutions. 
For this
 session, I based my top "how might we" on the pain points in my
journey map
to reframe the
problem statement
more broadly:
"How might we better support the Ezidis' communication with the Armidale community?"
Wrestling with this problem we conducted '
crazy eights
,' discussed top
ideas
and voted.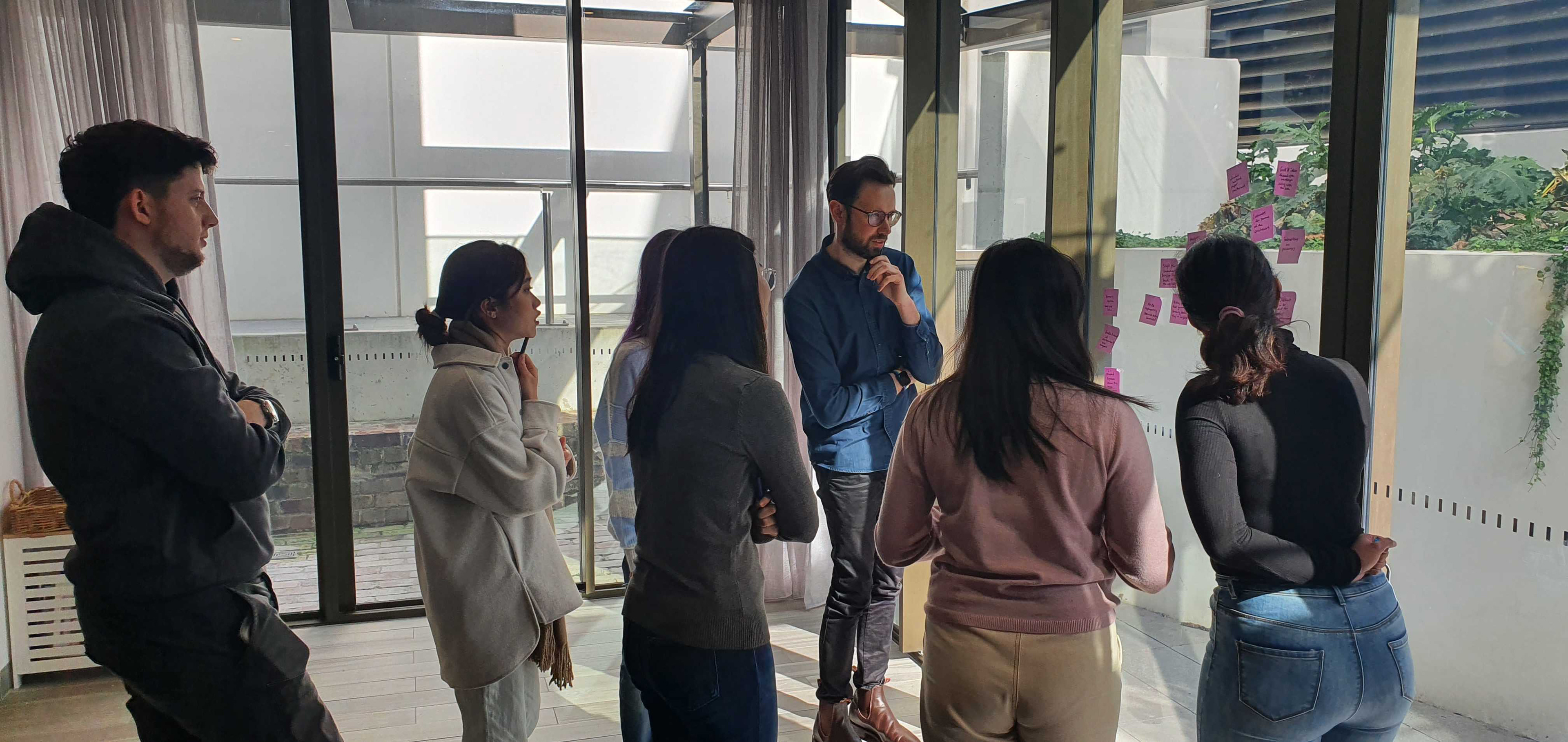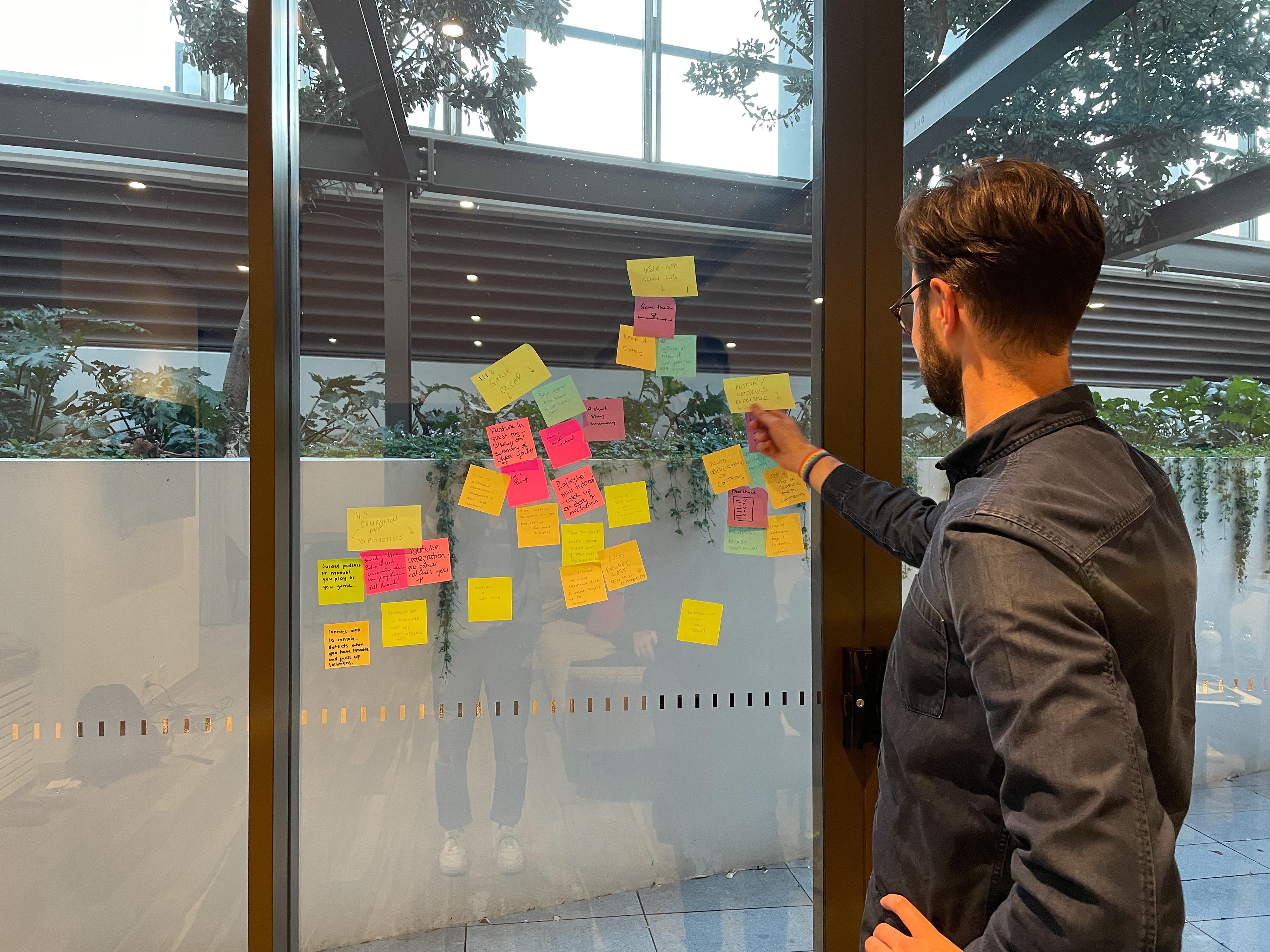 The idea: flash cards for day-to-day communication
The idea I came up with was a combination of the top-voted ideas from the
ideation session
 and aligned to my 
research insights.
 One interview in particular delivered inspiration for my idea.
A local business owner who employed Ezidis had told me how his staff used '
flash cards
' - a simple photo with the English word underneath. This was the most effective way for them to learn on the job. 
Based on that anecdote I chose the idea of a
crowd-sourced flash card app concept
that would enable both Ezidis and Armidale locals to upload and edit flash cards and translations, creating a
living database they could use and update on their own
. 
I
validated
the idea against my
persona
: Aya needed a smartphone app that was simple, with minimal copy and that was mostly image-based, to help her interact with services. As trauma blocks memory, this app could serve to remind and help her learn.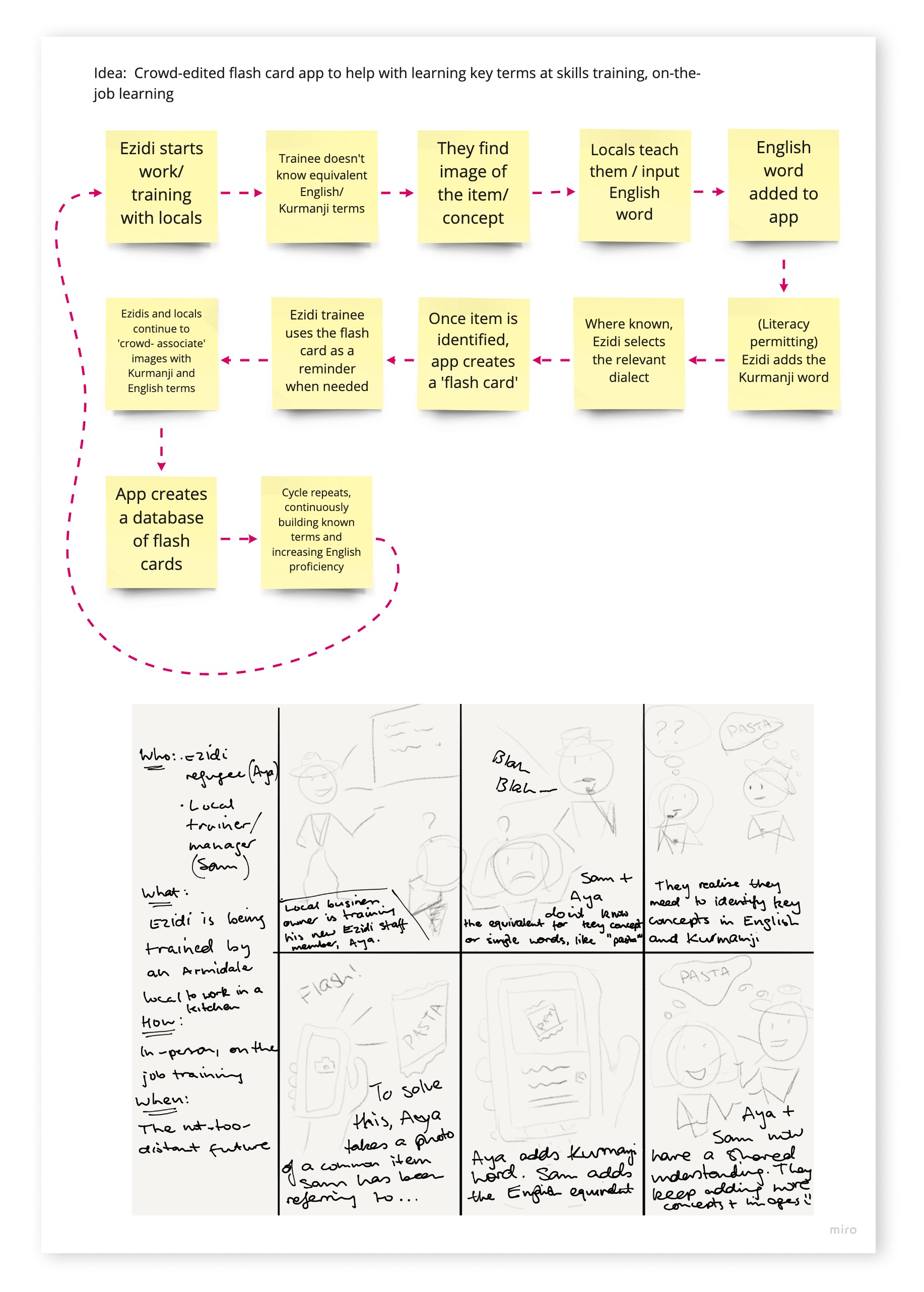 With my research-validated idea chosen, I continued traversing the
develop
phase of the
double diamond
.
Storyboarding
 influenced the creation of
user flows
, which focused on the one thing I wanted the app to do, its
core purpose
: make and edit flash cards, rather than making a 'do everything' solution.
The initial
wireframes
visualised the user flows, focusing on key actions: adding a new card, editing an existing card, and search functionality.

Aya needed a

simple interface

with minimal copy, focusing on visual cues or images to entice her through the flow. 
My inspiration for the

colour palette

referenced the mountain dusk scene below, an inspiring image evoking colours intended to be calming through a mix of warm and cool natural

hues

.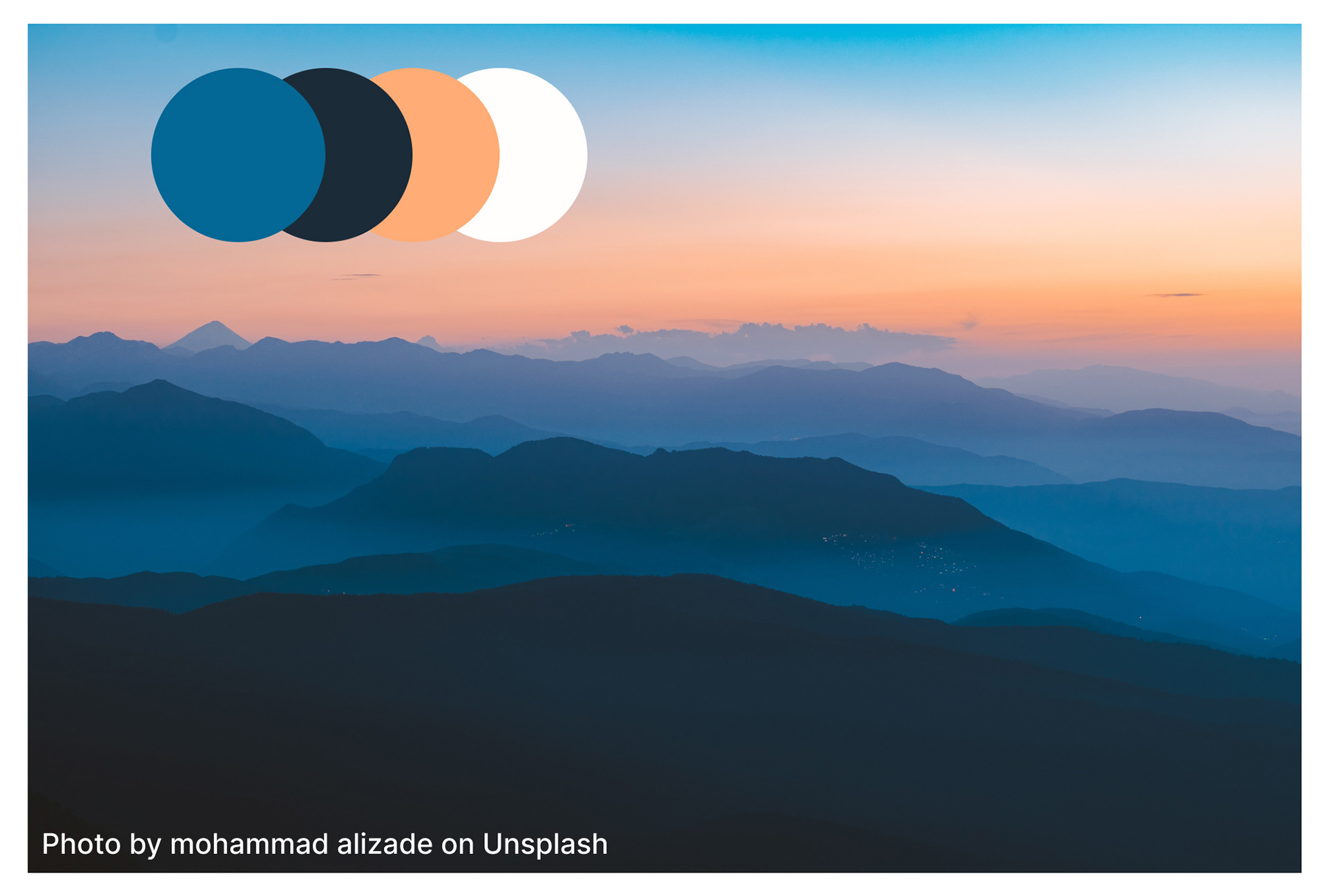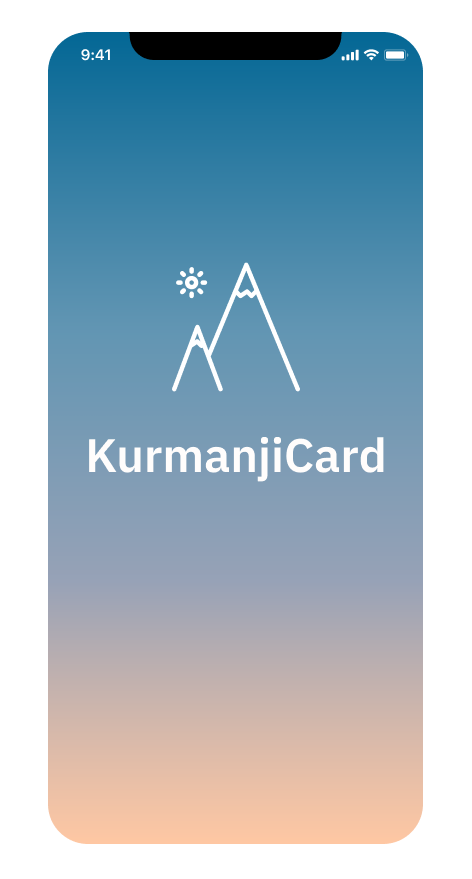 Mountains are significant for the Ezidis: they are from the Sinjar Mountains in Iraq, which they consider to be sacred. The Sinjar Mountains also served as a literal refuge from the persecution of ISIS in 2014. In an almost poetic journey, they have resettled in Armidale's Northern Tablelands in NSW, a new mountain refuge far from their traumatic experiences.
I wanted to reference this motif of mountains as a reminder of the sacred and the familiar, and to convey a sense of challenge, achievement and resilience, apposite for the Ezidi experience.

Iterate, test, iterate, test...
With limited time to find testing participants, I initially tested my concept with classmates via Maze, which highlighted key issues but essentially validated the idea.
With limited time I moved into live usability testing with Ezidis and locals. I experienced a major setback when testing iteration two with an Ezidi chef who completely misunderstood the concept, and could not read any of the limited copy. 
This was a humbling moment where I had to redesign the app to simplify the design further, removing copy where possible and increasing the size of clickable areas. 
Luckily I was able to test the design with a member of the Ezidi community who had better English and grasp of the concept. While she identified some areas for improvement, overall her feedback resoundingly validated the concept, saying,
"This could really help my community."
This feedback on its own was incredibly rewarding - I realised the potential of design to create meaningful change.
The final version (so far)
The impact of this concept could be immense - with more time to build trust amongst the community, I'm excited to keep testing and iterating the concept, and eventually, building the app with a developer partner. Watch this space!